Trendy TCG Primer! Meet The Newest Hits In Trading Card Games
Posted by GAMEOLOGY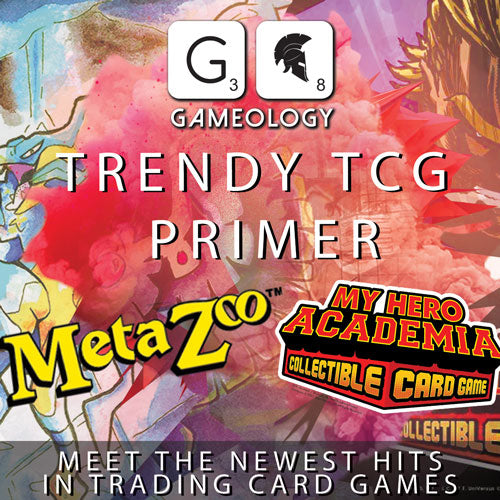 MetaZoo
The new hit TCG - MetaZoo - a game that's pretty meta
"Not another TCG", you might say. But friend, let me tell you, this one's bringing a lot of flare to the table! 90's nostalgic and fun art-style, dynamic gameplay, and effects that break the 4th wall - what's not to love?
Become the epic caster you've always wanted to be, bringing all kinds of Beasties and Auras into battle, but be mindful where you play - the location, as well as all the objects surrounding you, will matter! Is there anything shaped like a Cross near you, is your opponent wearing the colour red, or can you spot a tree in your general vicinity? Yes? I've got great news for you! Or bad ones, depending on what the card says... You'll just have to find out for yourself!
Now, the terminology might be a little out there, but once you wrap your head around Pages being cards you play and the difference between Arena and Battleground - you're all set.
The objective of the game is pretty simple - reduce your opponent's life count to zero, be it through direct attacks or other card effects.
Each turn can be broken down into three comprehensive steps - the caster will begin by drawing cards from their deck and "Awakening" cards in play, then undertaking any number of actions for their turn (be it playing an Aura or conducting an attack on the opponent, you do you!) and lastly ending their turn - some cards will have end-of-turn effects.

Sounds straightforward enough? Give MetaZoo a go!
MetaZoo: Cryptid Nation brings in the cryptids of North America, with their newest instalment - Nightfall - hitting our shelves soon.
Preorder yours today!
My Hero Academia CCG
Anime fans, rejoice - My Hero Academia CCG brings superheroes from the beloved anime straight to your gaming tables!
Join the and the Class 1-A heroes-in-making, show off your superpowers - or Quirks - on the battlefield! Build your 51-card deck around your favourite heroes like All Mighty or Tsuyu Asui, synergising the cards with the character, or pick up a Rival Box with two ready-to-play decks - Izuku Midoriya and Katsugi Bakugo.
The gameplay and flavour is designed to reflect the dynamics of the anime and bring about the drama we all grew to love. The game itself is built on an already tried and trialled Jasco's UniVersus system, which also means it is compatible with other titles within the same engine, such as Mortal Combat and Cowboy Bebop.
My Hero Academia CCG is designed to be new player friendly and a great way to introduce the anime fans into the exciting world of collectable card games,
but it also offers enough depth of strategy to keep the gaming veterans hooked.
Whether you're a big fan of the show, or you're looking to dip your toes into a new card game - My Hero Academia CCG is one to try out! Check it out at Gameology here! Collection 2019 Sale 70% Off Title for image