Magic: The Gathering Gift Giving Guide
Posted by GAMEOLOGY
Have you got a friend, partner or family member who plays Magic: The Gathering? Do you have absolutely no clue what to get them because you can't tell the difference between a planeswalker deck and a booster box?
Never fear, because here is our Gameology Magic: The Gathering gift giving guide!
For the beginner...
Planeswalker Decks or Commander Decks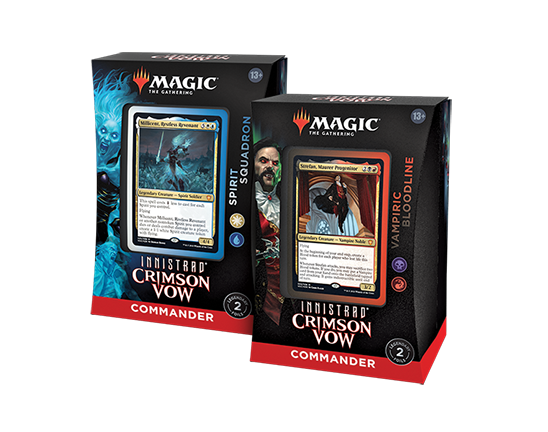 If your recipient is still fairly new to Magic: The Gathering, the best choice is a planeswalker or commander deck. At Gameology, there are several different sets to choose from, all with two or more planeswalker or commander decks in each! These decks are ready to play straight out of the box and help new players get familiar with the different mechanics. Perfect for those looking to learn the game!
We recommend:
For the intermediate...
Bundles
These bundles are packed with tons of stuff and are the perfect gift for intermediate Magic players. Not only do they contain several boosters, but also foil (shiny!) basic lands, regular lands, a promo card, a spindown life counter, and a reusable storage box! Though the regular bundles are great, if you want to go the extra mile, go with the Gift Edition bundles!
We recommend:
For the seasoned...
Set Booster Boxes
Perhaps your Magic player already has it all. Well, that's not true because any Magic player knows you can never have enough booster packs. And a booster box, which can contain over 30 individual booster packs, would be a Christmas dream come true. Imagine the anticipation and mystery of opening a Christmas present, multiplied by 30. No matter how long you've played Magic, you still get that feeling, every time you open a pack. This new set booster box for Crimson Vow is designed specifically for those who love to open packs and see what's inside.
We recommend:
Collector Booster Boxes
However...if you really want to go all out, there are the vastly more expensive but insanely more valuable Collector Booster Boxes. These glorious shiny boxes contain 12 collector boosters (different from draft or set boosters) which are basically shortcuts to the best cards in the series. Open hundreds of other boosters and you won't even get close to the cards in this box.
We recommend:
For everyone...
Draft Boosters and Single Boosters
These little packs are the bread and butter of Magic: The Gathering. Priced from $6 and up, they're perfect for small gifts or stocking stuffers.
We recommend:
And Last but not least - specifically designed by Wizards Of The Coast for this holiday season is...
D&D Adventures in the Forgotten Realms Gift Bundle
With all the customary Bundle goodies, plus special packaging and a Collector Booster, the Adventures in the Forgotten Realms Gift Bundle is the go-to choice for shoppers looking to purchase a gift for their favorite Magic fan.
A note...
Something to keep in mind for all Magic: The Gathering purchases are the current sets in the Standard mode of play. Certain sets will rotate out each year and if you're not careful, you could end up giving your recipient cards they won't be able to use! Since Standard is such a popular way to play Magic, it is always preferable to gift your friend/partner/relative products from the current Standard sets which are (as of writing this):
Innistrad: Crimson Vow

Innistrad: Midnight Hunt

Adventures in the Forgotten Realms

Strixhaven: School of Mages

Kaldheim
And there we have it! Our Magic: The Gathering gift giving guide! What do you think? Did we miss anything? Let us know in the comments below!
Collection 2019
Sale 70% Off
Title for image